Greens-Labor still in election denial, a month or so ago, according to sources, had a confidential conversation…
Tanya Plibersek:     Hello Sarah, we need to do something to distract Abbott's agenda
Sarah Hanson-Young:     F#@K Abbott!  And they were machetes according to my TV.
Plibersek:    Yeah I agree, but we need to distract the electorate with a story that can unhinge Abbott's momentum.
Hanson-Young:    What do you suggest.  F#@K Abbott!
Plibersek:    No.   We should arrange another boat.
Hanson-Young:    I miss them deeply.
Plibersek:    So ask your comrades at Refugee Action Coalition to take Tamil bookings.  Timor Strait is blocked by Morrison so no use getting them from Indonesia.  Instead get Tamils out of India and we will fund the deal through slush account #28.  India is too far for Morrison to tow them back.  We'll break the boat drought!
Hanson-Young:    Ok.  If this pays off, I want that immigration portfolio, right Tanya?
Plibersek:    Let me talk to Shorty.  He'd be sympathetic.  His mum was an asylum seeker, lived on the Disability Support Pension.  His draft memoirs claim he lived for three months in a paper bag in a septic tank, used to have to get up at six in the morning, clean the paper bag, eat a crust of stale bread, go to work down t' mill, fourteen hours a day, week-in week-out, for sixpence a week, and when he got home his Dad would thrash him to sleep wi' his belt.
Hanson-Young:    Ok. If it was on TV, I believe it.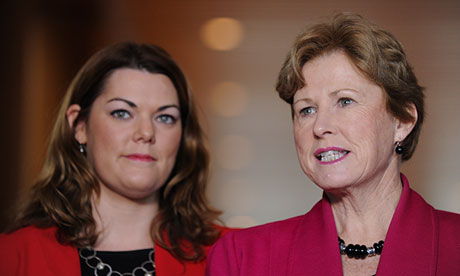 Greens' mouthpiece Sarah Whyte, immigration correspondent with Fairfax media led the following story yesterday:
"Tamil asylum seeker boat reportedly off Christmas Island"
http://www.smh.com.au/federal-politics/political-news/tamil-asylum-seeker-boat-reportedly-off-christmas-island-20140627-zsoy7.html
"Passengers claiming to be refugees say they are in a leaking boat 300 kilometres off Christmas Island after spending two weeks at sea during a non-stop (charter) journey from India.
After being contacted by a refugee advocate (Ian Rintoul on speed dial), Fairfax Media spoke to two of the 153 people allegedly on board the boat, who told of their plight via satellite phone (slush funded).
A female passenger, (Surya) who identified as Tamil, said the boat was carrying 37 children and 32 women. ''We need some help,'' she said. ''We are refugees.''  (Thanks for the satellite phone by the way).
Sarah Whyte:  Mark, can you find me a photo of teary eyed Tamil asylum seekers to support my propaganda article?
Yeah cool!
"The woman said they did not pay any money to board the boat, which she said had left from Puducherry in the south of India on June 13.  (It was prepaid by slush funds)
Another man who spoke Tamil came to the phone, saying: ''We have come to Christmas Island because we don't have anything. We have travelled all the way from India.'' ''The boat is damaged. It is leaking,'' he said. (Our axe through the engine oil pipe probably caused it). ''There are children, including infants and we are unable to manage.''  (We need Aussie Navy now!)
Asylum seekers on board the boat say they were given rice and fish by Indonesian fishing boats. (as they pointed toward the direction of Christmas Island).
No vessel carrying asylum seekers has successfully reached Australian shores since December 19. This boat will likely pose a major challenge to the government's turn-back policy, given it has not departed from Indonesia nor stopped to pick up supplies anywhere closer to Australia during its two-week journey (with RAC Cruiselines).
"Mrs Tamil, can you see Christmas Island yet? 
This will piss off Morrison for sure!"
In March, the Abbott government tripled to $7.5 million the amount  of money spent on the large orange lifeboats that used to tow back to Indonesia asylum seekers breaching Australian waters.
It is unlikely the government could return the boat to India in one of these orange lifeboats, given their short-trip purpose.
This was always a better option..
Fairfax Media has informed the Australian Maritime Safety Authority of the details of the boat…" How so?   Meanwhile, Fairfax leftists-in-cohoots, the ABC's Lindy Kerrin and close political mate of Sarah Whyte, reports today:
"Man 'on board asylum boat' says vessel in trouble off Christmas Island"
http://www.abc.net.au/news/2014-06-28/asylum-boat-in-trouble-off-christmas-island/5556892
"A man who claims to be an asylum seeker on board a boat with 152 other people says the vessel is in trouble about 250 kilometres off Christmas Island.
The man, whose first name is Duke (traditional Tamil name) told the ABC's Saturday AM program the group are mostly Tamils from Sri Lanka who left from India two weeks ago. Duke said the group is determined to make it to Australia to seek asylum.
"[There are] 32 [women] and we have 37 children, 253 kilometres … from Christmas Island," he said. "We are refugees. We come from Sri Lanka – we stayed in India and we are unable to live there. That's why we are coming to Australia."
The man said the vessel was being buffeted by wild weather and needed assistance.
ABC's Lindy Kerrin has his mobile number:
"It's heavily raining also. We didn't get help anywhere. The wind is blowing in high speed, and [there are] huge waves," he said.  "The children and infants are also in the boat … We can see some boats lights, maybe fishing boats."
Fairfax Media is reporting it has spoken to two people claiming to be on the boat, including a woman identifying as Tamil.
She said the vessel departed southern India on June 13 and made contact with marine rescue authorities on Thursday night." Such direct detail obviously from the illegals themselves.
Is ABC paying their mobile phone account?
Somehow the story is similar from the Refugee Action Coalition today.
http://www.news.com.au/national/contact-lost-with-leaking-asylum-seeker-boat-near-christmas-island-refugee-action-coalition/story-fncynjr2-1226969460987
"THE fate of a leaking boat carrying asylum seekers including 32 women and 37 children bound for Christmas Island is unknown this afternoon after refugee advocates lost contact with the vessel.
Refugee Action Coalition spokesman Ian Rintoul said the 21m boat carrying 153 Tamil asylum seekers, which left from India, had sprung an oil leak and was about 175 nautical miles from Christmas Island at 9am this morning.
(Rintoul has such timely operational details, doesn't he?  It is almost as if he was co-ordinating the people smuggling from his home?)
Rintoul blabbers on:
"As a result of the leak, he said the vessel was only likely to have engine power for another few hours and would then be in "immediate danger if the engine fails and the boat's not manoeuvrable, vulnerable to capsize and vulnerable to the elements''.
By 1.45pm, Mr Rintoul said satellite telephone calls to the boat were not connecting and he had no way of knowing if disaster had struck.
The Australian Maritime Safety Authority was alerted about the boat on Friday and is understood to have been monitoring it today.
Mr Rintoul said he feared the Australian Government would try to divert the asylum seekers or leave assistance until it was too late.
"We haven't been able to get hold of the boat again. We're anxious to hear from them. The last time was five hours ago,'' he said at 1.45pm. "We're just trying to confirm that there is assistance being sent to them but at this stage we don't know. "We would expect the authorities to be acting urgently to ensure that they either rescue these people or provide them with the resources they need to keep the boat afloat and mobile.''
Kerry Stokes owned The Weekend West newspaper, got an inside scoop "exclusive" to serve it up to Abbott, headlining:
"PM faces asylum boat challenge"
"Abbott faces boat challenge Interception".
"Two asylum seeker boats were last night headed for Christmas Island in a major challenge to Tony Abbott's tough border security regime. One boat carrying about 150 Tamils was said to be in remote waters 300km west of Christmas Island.  The other, carrying about 50 passengers, had been intercepted by the Australian Customs vessel Triton between Christmas Island and Java."
Somehow The Weekend West managed to speak to passengers aboard the bigger boat carrying 153 people.  A female Tamil aboard, Surya, told them that calls had been made to Australia on Thursday for help but that assistance was yet to come.
"Quick, scuttle the boat, turf ya passports. Their navy will have to give us citizenship in Harris Park."
Meanwhile, anonymous refugee advocates out of Melbourne phone Customs Watch report that another fifty asylum boats had recently departed India heading directly to Sydney's Circular Quay.
But this has been dismissed by Immigration Minister Scott Morrison. "There are no boats."  Morrison has said he wants Leftists to stop phoning his Border Security.
Ian Rintoul has accused Morrison of being in denial.